I was recently invited to Whoo Spa in ritzy Sinsa right across the street from Garosugil by a company called Eastasy.  They partner with brands and experiences across Asia and offer massive discounts.  After a whirlwind weekend in Taipei, I was definitely due for a massage.  The experience I had at Whoo Spa was very thorough, as is my breakdown!  Leave any questions in the comments and I'll get back to you shortly…
Whoo Spa Atmosphere
Whoo Spa (formerly O Hui Spa) in Sinsa dominates the VVIP spa service space in Korea.  They are very popular because they use the most up to date technology to stay current for their clients.  They have a variety of K-Pop Stars and famous American and Korean actors (Kim Tae-Hee and Shin Min-A use O Hui) who visit due to the great service and tucked away location.  They also sell a vast array of high-quality, exceptional skincare products made from South Korean natural medicinal herbs, from luxurious brands such as O HUI, Whoo, and SU:M 37.  Clients get 25% off products the same day as their service.  Make sure to check out Eastasy for a wicked deal on packages!
The Whoo Spa Treatments
I opted for the Aroma Resfresh Care package (100 minutes).  This package includes a basic facial accompanied by an aromatherapy body massage.  The facial was anything but basic!  It started with a soft, peeling cleansing.  Then, was followed by an exfoliating, deep cleansing, bubbling facial.  I got a face slimming massage, too, which included a decolletage massage.
Upgraded
I was upgraded to the ICE care, which is good for brightening and moisturizing.  This is very similar to a Vitamin C procedure I've had previously.  They also offer hot care (for anti-aging), pore tightening, and aqua peeling (generally for patients with acne).  Once my ICE treatment was over, a facial ampoule and an essence was applied, then secured with a molding facial mask pack.  After that, there was revitalizing care before I went on my way.  My back and shoulders were massaged using products from the Gongjinhyang line.  It containes ingredients such as ginseng and cordyceps (a popular fungus used in ancient Chinese medicine).  Throughout the majority of the facial, they places electronic leg and foot boots on and I was treated to a full body experience for the entire two hours.
Personal Preferences
Usually I'm pretty tense when I go for a massage.  I work out quite a bit and lift heavy weights (and all kinds of children daily!).  When I was in Thailand I found that when I asked for medium pressure it just wasn't enough to get the knots out.  On my questionnaire I still put medium, but the pressure was a lot stronger than I expected.  My masseuse was not shy at all, and whenever she neared my lower back or decolletage I could tell there was certainly no modesty in this treatment.  I would have preferred not to be on a plastic sheet, but I totally understand their hygenic needs.
Whoo Spa Seoul Massage
There were several areas of my body that could have used very strong pressure: my calves, ankles, and lower back.  I felt like she kind of skimmed those areas focusing primarily on the upper back, middle back, shoulders, and traps.  They needed a lot of attention, but I was much more sensitive in those areas.  I also got a hand massage.  I didn't realise that I needed one, but it was heaven!
Whoo Spa Seoul Aromatherapy
The aromatherapy aspect of the treatment is not what I expected, and I was glad.  Usually the scents are fairly strong and irritate my allergies.  The earthy, yet still sweet smells were pretty mild.  I got whiffs of honey, lemon, and oaky notes.  If you've read my Vineworks Korea article you'll notice my nose isn't always spot on, but these pleasant fragrances were neither sickly sweet, nor heavy on the Chinese medicine.  I would likely use them at home, too.
My masseuse used plenty of warm towels (bordering on hot) at the beginning and end of the treatment.  I always want to roll around in warm laundry fresh out of the dryer (I miss dryers living in Korea!) so they felt amazing.  They were also the perfect way to get any remaining oils off before changing and heading home.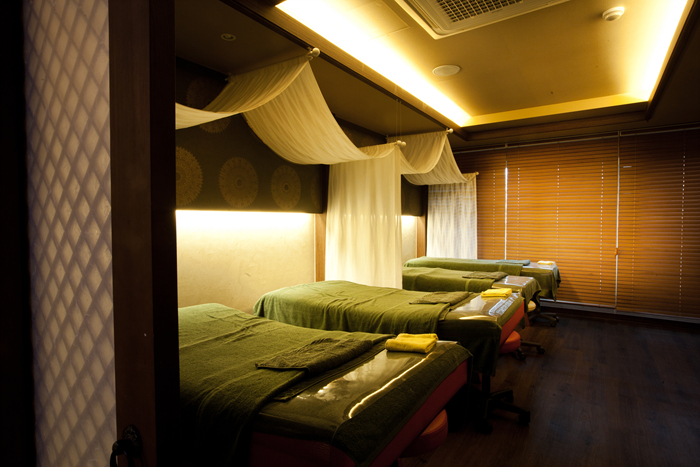 Whoo Spa Seoul Facial
My facial was longer than I expected because of the facial massage and surprise upgrade (thank you!).  In terms of the steps, they were pretty similar to what I've experienced in the past.  My bubbling, cleansing facial was very effective, however it wasn't as itchy as I normally find they can be.  I normally have to stay very still or risk 15 minutes of agony wanting to scratch my face.  This was fine.  The ICE facial was a lot colder than I expected.  They placed a cream on my face.  They then pressed a flat, cold, metal plate in circular motions across my whole face.  At some points I questioned the necessity of the low temperature.  They told me this particular one was good for moisture.  They recommended it to me as apparently my skin is quite dry and sensitive.
Whoo Spa Aftercare
After my 2 hour treatment whizzed by (I totally fell asleep throughout the molding facial), I was taken to a reception area where tea and a small pastry was waiting for me.  The Whoo Spa manager explained that it was very important to rehydrate the skin within a couple of days.  She presented me with 2 samples of Su:m37 ampoule, and a sheet mask from their "white awards" brightening series.
Directions to Whoo Spa (formerly O Hui Spa)
The Spa itself is tucked away across from Hak-dong Park.  It took me a little while to find, so allow yourself plenty of time if you're not taking a taxi.  They're open 10:00am-10:00pm, Monday to Sunday.
From Sinsa Station (Seoul Subway Line 3)
Take Exit 1.  Walk straight and turn right before you reach Yeongdong Tourist Hotel.
Continue walking and look for the spa on your left.
From Hak-dong Station (Seoul Subway Line 7) 
Take Exit 6 Walk straight and turn right on the second street.
Continue swalking straight and you'll find the spa on your right-hand side.

Big thanks to Eastasy for inviting me to relax my body and revive my skin at Whoo Spa in Sinsa, Seoul, Korea.  This article is in partnership with Eastasy, but all opinions shared with regards to Whoo Spa are my own.  Explore Asia through Eastasy: click here for all kinds of deals on experiences and accomodations in Korea and beyond!