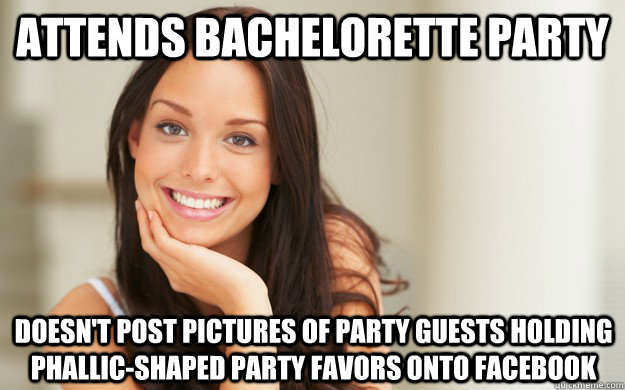 Planning a Bachelorette party is no easy task. In Toronto, there are so many options it's a challenge to whittle it down to what the bride will actually love. There's paddleboarding, but that's weather dependent. Escape rooms, unless the bride has anxiety. Pole dancing, unless someone in the bridal party used to be a stripper. Axe-throwing, but that's far out by the docks. A bachelorette party is supposed to be fun for the bride and her closest friends. Here's how the best laid (and expensive!) plans completely unraveled.
In advance of the big night, I had Bride/ Bridesmaid t-shirts made up and I scoured the internet for the best decor and games which wouldn't be too lewd. Eventually, I traveled to Oshawa to pick up all the goodies at Party City since the local ones didn't have the balloons I wanted. Not wanting the bride to have to lift a finger, I sent an UBER to pick her up and transport her to a secret location for blow-outs. Bride has hella long, thick, wavy hair, whereas mine is much shorter and more manageable.
I booked 2 long hair/ extensions blow outs thinking it would be plenty of time. It was absolutely not. Our blow-outs at Body Love Inc. made us want to curl up and dye – er, die. I looked decent when I rocked up, but definitely needed to have my hair washed and styled. The area for hair-styling is quite cramped with 1 washing station and 4 chair stations. We each opted for curly locks with a pulled-out fishtail braid. As you can see above, it was clearly not what we were expecting! Disappointment #1 on a day full of high hopes.
Louix Louis

St. Regis Hotel Toronto Free-flow, Bottomless Brunch
No disappointments here! The St. Regis Hotel Toronto was absolutely magnificent. Even though we were late due to the horrendous hair incident, the staff made us feel cool, calm, and collected as we were escorted to our booth. The decor at Louix Louis is nothing short of regal, and we felt like royalty with our sparkling wine topped up by prosecco fairies (or ninjas – the service was exquisite, but the details covered without spectacle). We were also given the choice of orange or peach juice which were left at our table to be poured at our discretion.
Our appetizers were just perfect! Bride and I had Crispy Pork Belly snow pea & mint, pancetta, parmesan, red wine jus. Across the table, there was a lime Kale Caesar sourdough, lime yogurt dressing, smoked bacon, parmesan (there was no kale in this salad, though. Kind of weird, right?). My neighbour tried the beef Tartar pickled mushroom, grain mustard, spicy tomato jam, whole grain crostini. Everyone was thrilled with their choices and we were excited for the main courses.
Our entrees appeared on the smaller side, but were served up with incredibly rich ingredients. The Nova Scotia Lobster Rolls came with grainy mustard, lemon aioli, crispy lettuce, and saffron pickled fennel. My Steak & Egg Florentine was New York steak, poached egg, garlic spinach, lemon hollandaise, and toasted pumpkin. The Fried Chicken & Waffle was huge with pepper jack cheese, maple syrup, chicory leaves. I'd definitely go back for the Croque Madame made with black forest ham, Quebec gruyère, creamy cheese sauce, and a poached egg.
Four of us tried, and failed, to demolish The King's Cake, a thirteen-layer chocolate cake made of 64% Guayaquil ganache, and served with vanilla ice cream and chocolate sauce!
When we got to The Westin Harbour Castle, we checked in and went up to the 34th floor penthouses to decorate. It was my understanding that we'd have 1 bedroom with a living room, but we ended up getting 2 bedrooms with two living rooms. Amazing since we had 4 bathrooms, but for us all to socialize we had to squish all the guests into one room. Disappointment? Certainly not, but definitely a little bit of an unexpected surprise.
We got to work decorating the suite and adding goodies so graciously sent by Miracle 10 (have you heard about their new cosmetics collection? We had the perfect nude for all skintypes), Repiel sheetmasks c/o Brill Communications, and skincare goodies from my friends at CosRX.
In each of the 4 rooms there was a massive flatscreen TV (bring your Netflix credentials for viewing pleasure), and in 2 of the 4 bathrooms there were showers. We had plenty of water and tons of coffee, thankfully, as I was already feeling pretty exhausted from a full morning!
Sheer pleasure? The set-up the Westin Harbour Castle provided for dinner. We had had a few more ladies join us for champagne and chill time before going out and popped on the Raptors game as the dishes rolled in. The hot wings were perfectly meaty, the thin crust pizza had a fantastic sauce and plenty of cheese on a doughy crust, and the nachos were actually loaded high. Again – 8 women couldn't finish this spread!
I may be dancing and looking like I was having a good time, but El Convento Rico was a big ole bust. I had arranged for a table and some photos of the bride and her fiance to be displayed on a loop with other bachelorette parties that night. After our party got settled, it was demanded that we buy a bottle. Yeesh – no a la carte here, we bought a crappy bottle of tequila for the better part of $200. No images were displayed to the best of my knowledge at all.
Being that this is the typical spot for parties like these in Toronto, you'd expect more than a few bathrooms in a dank corner. Waiting for 45 minutes well away from the party in a dirty, stinky place was not my idea of a good idea, and after I has returned some of the drinks and gone outside for some air it was time for bed. Yayyy what a great night, eh?
Ultimately, some of the best laid plans go awry. No matter how carefully a project is planned, something may still go wrong. Your hair might fall flat. Heck – your friendship might be hair today, gone tomorrow! The hotel might not be exactly the room you bargained for. The guests might get unruly and destructive. When it comes down to it, all you can do is give it your heart, soul, time, and wallet, and hope your hard work is appreciated. If/ when it isn't, give me a call and we'll commiserate!
Contact Louix Louis at the St. Regis Hotel Toronto
Contact The Westin Harbour Castle Toronto