Does Romance Still Exist in Our Pandemilovato?
Does romance still exist in 2022? In Toronto, we're in our 164th lockdown (I can't keep track), the most adorable restaurants are closing minute by minute, and our country's leader is in hiding due to the cavalcade of bible-thumping racists increasing emissions with empty trucks. We could use a little cute, but I think expectations of romance might be beyond the scope, this year.
The gift guides for her I've seen online stating the #1: a robe and #2: fuzzy slippers give me some real second-hand embarrassment. If you ever get a woman a robe, she'll know your relationship's on the rocks. Let me tell you what she doesn't want. Your lady does not want a teddy bear. Heart-shaped jewelry is not joining us in 2022. She does not want cheap corner store chocolates/ candy. There's only a couple acceptable candles, and we'll get to that later. For the love of all things holy: if you buy her the fragrance your mother or your ex wears, you deserve to be left alone. Forever. Ghosted, probably.
The caveat: I'm writing this to you as a single, 34-year old cis/het woman who is currently in a 10-day lockdown because my 3 vaccines, 0 symptoms, and I "tested positive" upon return from Mexico City. Take from this what you will, but I know what I want and I think I have a good idea what women like me would like, too. I know that my apartment has no stuffed animals or trashy lingerie, and the only cheap chocolates I have are the ones I bought online since I literally cannot leave my home right now.
The Basic Gifts

A Card
Whether you've just started dating or you've been married for years, it's always nice to let your partner know how much they mean to you. Get a cute card (Indigo has tons!) Give a few words of affirmation, share a sweet memory, and be specific about all the things you adore about them.
Flowers
At the beginning of the pandemic I got a stunning arrangement from Inspire Design Studio. They have bundles for $35 and vases for $9.50. Tonic Blooms has never steered me wrong, but their bundles are upwards of $70 plus delivery. If you buy her flowers, make sure she has a vase, and look up how to cut and arrange said flowers in a vase of that size. If she doesn't have a vase and you insist on going the flower route, buy one for her. It doesn't have to be pricy – it's just a vessel!
Chocolates
We're just coming off of Christmas where I had to beg my parents to limit the chocolate in our stockings (first world problems, I'm well aware!) We're all trying to keep balanced throughout these lockdowns. If you're going to buy your partner chocolate, do it right. Each Chocolat de Kat is a tiny piece of edible art. Kata Ambrus trained in Classic French Pastry Arts program at the International Culinary Centre in NYC. Her shop is located in the St. Clair West neighbourhood of Toronto. The above chocolate heart is $12 + HST and a 25 piece gift box (with delicious flavours like pear jasmine, salted caramel praline, Vietnamese coffee, hazelnut hot chocolate, chili tahini, classic champagne, and many more) runs about $65 + HST.
Aunt Beth's Gourmet Cookies
Beth Havers (aka "Aunt Beth") has been baking since she was a little girl, and worked as a whisk(e)y ambassador and educator for almost as long. She's combined her love of both and has developed recipes using bourbon, scotch, Irish, and Canadian whiskies for some absolutely fantastic whisky-infused cookies. On the menu at present, you'll find crinkle cookies (made with Woodford Reserve), Santa's Secret (Dark chocolate, candy cane, and a splash of Irish Cream), Maker's Mark Bourbon Barrel Chocolate Chip, Jameson's Cold Brew Espresso Yourself Chocolate Chunk, Hearts on Fire (with Fireball whisky), Canadian Club Rye and Ginger, The Singleton Speyside Big Short (butter and toffee), Jameson's Irish Double Double, The Smoke Show (made with Ardbeg), and Straight Up Chocolate Chip (no alcohol). They ship to Canada and the US. For the whisky-lover in your life, head over to her website!
Lip Gloss
I would typically prefer to buy cosmetics myself, but a touch of pink gloss from Dior ($44), Gucci ($42), or Dolce & Gabbana ($56.50) is a fabulous gift for someone you think would want something to unwrap on Valentine's Day. The packaging on these sweet little products is so darling, too!
Soft Loungewear
Again, if she's the kind of gal who needs something to unwrap, cute and comfy loungewear might be the key. While the promise of lockdowns ending forever is on the horizon, I just don't trust creepy Uncle Douggie. Stylish loungewear is here to stay, and Tara Rivas not only has super soft loungewear, but also formalwear, dresses, and designs made to order. Bonus: they're having their end of year sale, and the shorts above are on sale for $44 (size XS – XL). Ethically and Canadian made clothing with free shipping? Count me in!
A Memory Immortalized
If you're married (or if you've got a special song), this First Dance Lyrics framed art piece is a beautiful way to commemorate a beautiful shared memory. The centre image is a star map showing the alignment of the stars and constellations from your wedding day (or any other symbolic day for you, lovebirds!)
Flutterfly Stone Initial Necklace
I'm not a huge jewelry gal, but if someone were to get me my (or his!) initial in this sweet little necklace, I'd wear it every day. Available in 18k gold plated, 18k rose gold plated, or rhodium plated over brass with cubic zirconia stones and imitation pearls, the necklace is priced at $68 USD and is available here.
Valentine's Day Kicks
I'm still relegated to flats after a tumble several months ago. I love cute sneakers, and if your partner does too, these Adidas Superstar, Converse Chuck Taylor All Stars, and Nike Women's Air Max sneaks are ADORABLE and are a great way to tell them you love them if you have a hard time saying the words out loud.
The "It" Gift
If you have $500 + HST to blow and she's *That Girl* on TikTok (or is trying to be), I present to you: the Dyson Air Wrap. If this is you then I have questions, but go off.
Olaplex
Hair care is expensive! We all know and love Olaplex. When in doubt, click here.
YSL Handbag
I'd probably lose my mind if someone ever got me a YSL Handbag (the guilt!), but I'd be remiss if I didn't include a handbag on this list. Maybe it's due to the fact that manufacturers don't put pockets on women's pants, but a divine handbag will always catch my eye, and this YSL 5 à 7 hobo bag is the one I can't seem to forget. It goes with everything, has an adjustable strap, and from a trend perspective has long-term staying power. With a price tag of $2,430 + HST, I'm not holding my breath!
Experiences
Go Skating
Skating is a great, affordable option for a Valentine's Day date. If your relationship is new, it's a cute way to *break the ice* and hold your partner's hand for an extended period. Wear a cute mask and bring a thermos of hot chocolate to keep the date going once you're off the ice.
A Picnic
Yes – you can have a picnic inside. If you're having her over, a good, old fashioned pillow fort plus wine and charcuterie is all I would need for some good quality time. If acts of service are your jam, grab some cured meats, artisanal cheese, olives, fruits, veggies, dips and some bread, pita, and/or pretzels and you're off to the races. The Cheese Boutique has you covered. Add a splash of colour with some macarons from Nadège. Bonus points if you're secure enough in your masculinity to drink rosé (Vanderpump is on sale at the LCBO, and Victoire is an always accessible Champagne at $42.95!) If you're not super creative in the kitchen and want someone to get it all done on your behalf so you can focus on spending time together, give All the Graze an order. Available for pick-up and delivery, their boxes start at $55. Their image above is just a small-scale rendering of the insanely beautiful grazing stations they make!
Love of Cocktails
Add an activity! Shake up some cocktails together. Love of Cocktails has cocktail kits for $115 (pick-up only) as well as classes for $98 on February 12 and 14 at 7:30 PM. The class includes 1 welcome cocktail, a small charcuterie board, a take home cocktail gift set ($35 value) and 3 Valentine's themed Cocktail Recipes:
Honey Collins – a tall and fresh drink that's honey sweet but with a touch of pucker-y tartness
Hibiscus Rose Sour – fluffy, velvety and floral
Smoked Maple Old Fashioned – a classic with flavours of smoke and maple
Little Sister Dutch Indo Food Bar
If you're looking for something a little different, Little Sister (my favourite Dutch-Indo spot in Toronto) is doing a Valentine's Day special grazing box called Nasi Campur. This Indonesian platter is centred around a scoop of rice and includes portions of meats, vegetables, peanuts, eggs, and shrimp crackers. This Valentine's Day, their Nasi Campur is available for $80 and includes dessert for 2 and 2 cocktails by the wonderful Robin Wynne.
The Candle
If you've made it here (first of all, thank you) – you've made it to the moment where I tell you how I really feel about candles, bath bombs, and lotion. These gifts would show me you've never paid attention while at my place. They involve no personalization, in my world. As someone who reviews skincare, my bathroom (and closet) are full of personal grooming products. There are shelves on shelves of the stuff. Please, no more.
As far as candles go, same thing. I've got enough, thanks! If you're hellbent on a candle, let's make one together at Kandl Artistique! This hidden gem in Yorkville makes candles for Tom Ford, Estée Lauder, Jonathan Adler, and now – me! It's the perfect spot to pop into for a dessert, coffee, and/ or a cocktail while making your very own customized candle. When I went, we pumped some tunes and got to work smelling the various fragrances and determining picks for top notes, middle notes, and base notes. The entire experience took about 90 minutes and cost $95 per person + HST. Reservations are available Wednesday through Sunday.
Fitness
Classes anywhere but Goodlife ain't cheap in this city. I'm hoping you're not a douche canoe reading this thinking: wonderful – she's telling me I can make my gal lose a couple o' pounds. No, if she already enjoys working out or has indicated to you that this is something in which she has interest, then (and only then) is this appropriate.
If she's already mentioned an interest in weightlifting, get THE BOTH OF YOUS a session or two with Brenna or Eddie at Unchained Athletics. They have programs for every fitness level, and when weightlifting can be so inaccessible to women, they make it really comfortable. Class sizes are small, so you really get the attention you need to build a solid foundation so you can eventually lift heavy. Get her some gloves and wraps if she's interested in boxing!
If you're one of those "competitive about almost everything" kind of guys, she'll probably prefer that you don't chirp her at every chance. Give 6ix Cycle a chance if this is you and you're still looking to enjoy some exercise together. It's currently $60 for a 2 week intro membership. The dark lights and loud music in this spin class will dull out any chance a conversation.
Not to shy away from the lockdown insanity, owner Julie Harrish has also started yoga at 6ix Flow. "6IX Flow is a music based, beat driven, candle-lit, sweat-infused hot yoga practice to help you connect movement to breath with full intention, while connecting to your body and the beat." I don't know about you, but that sounds like my kind of Valentine's Day.
Little Mordecai Chapel of Love
This one's ridiculous – and I LOVE IT. If you've been waiting through lockdown after lockdown to get hitched, February 12th or 13th might just be your lucky day! E-mail emily@barmordecai.com
"Save your air miles & elope to Vegas right here in Toronto. Bar Mordecai's Vegas-themed private room will be transformed over Valentine's weekend (February 12th & 13th) into a wedding chapel inspired by the hallowed halls of the quickie wedding capital of the world, Las Vegas."
You Bring: 
Your marriage license from City Hall
Up to 8 friends and family to witness your declarations of love
Yourselves!
They Provide:
A decorated wedding chapel in the spirit of the Vegas strip's best destinations of love
A legal officiant
A photographer to document the festivities, a 30 minute photo session in their beautiful restaurant space post-ceremony & a minimum of 50 high resolution print-ready images as well as a web gallery that can be shared with friends & family
A celebratory toast for up to 10 people
An Elvis Serenade
A bouquet & boutonnière (or two of either if you prefer)
A 30 minute winter wonderland micro reception on a covered & heated patio

If you already live together
Okay great – you like each other enough to know you want to live together. When I've lived with partners in the past, I never had a situation where I had to "nag". Maybe that's why I've been single for the past 4 years, but the last couple of times I lived with people we made the effort to clean up after ourselves/ one another every day. With Adonis, I worked 60 + hours a week. He wasn't working at all. He took care of the laundry, I bought the groceries, and we'd cook and clean together. With ex Co-P, he knew that my apartment only had a washer (it's not common in Korea to have a dryer), so he would toss my laundry in with his so that my poor, stretched out clothing would get some life back. It's also a dream to have warm, fuzzy towels and blankets tossed your way fresh outta the dryer.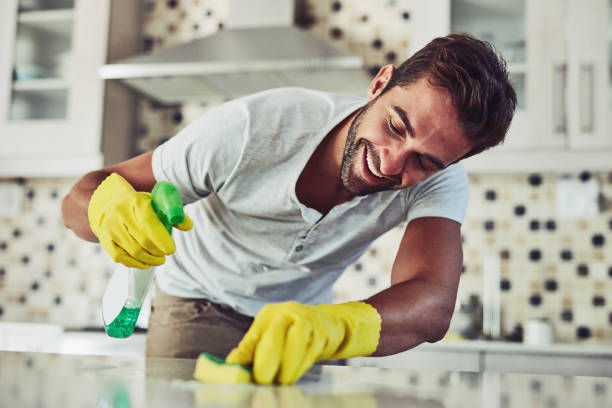 If you live together and you're lucky enough to have someone maintain the domicile on your behalf what is she, your mother? Take some time to do something helpful without asking. Don't weaponize incompetence. Do the dishes, dusting, laundry, and other acts of service right the first time. Take the trash out without her having to ask. Surprise her by fixing or upgrading something you've already been discussing.
If you want to make this really special, send her out for a manicure or pedicure (do yourself a favour and book at Kuko House), hair appointment, or a massage to get her out of the house while you work your magic. And please – make the appointment on her behalf and give the salon your credit card number, for goodness' sake!
Final Thoughts
If you can't do any of the above, please – for the love of all things holy – MAKE A RESERVATION. It's truly the bare minimum and will be so very appreciated.
Have you discovered your partner's love language? Words of affirmation, acts of service, quality time, receiving gifts, or physical touch can determine how your person will react to your Valentine's Day plans. Gift giving is an art. The perfect gift shows that you've been paying attention and that you can anticipate your partner's needs. For me, eating, drinking, and spending time with my dreamy guy is all I need for a day celebrating love.